WELCOME 2 SHOWCASE EMPORIUM
Hello to all my returning showcase beauty's and future showcase beauty's . Here at showcase emporium we present to you pieces and sets that will spice up your wardrobe . The pieces we choose we like to think that they are stylish and fun. These are pieces you can mix and match with items of your own. To create the perfect look for you ! Our pieces are for The Bold , The Sassy And The Classy . We hope you enjoy them as much as we do ! Don't foget to style in the moment!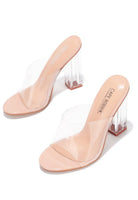 The Perfect Shoe For Any Occasion
The perfect shoe to elevate your outfit. Dress it up or down . It doesn't matter. Our " Clear block heel mules" says i'm ready!
Shop Now